Testimonials
Your Local Pittsburgh Dentists
Accepting New Patients!
Don't Wait Schedule Today
A Few Testimonials About Us from Your Family & Friends
The Best
I have been to many dentists in my lifetime and these are, without a doubt, THE BEST! The entire staff is so kind, caring and professional. I have always dreaded going to the dentist due to many bad experiences…I can honestly say that I look forward to my appointments now. Thank you Babcock Dental and Dr. Elena!
Most thorough dentist I have ever seen.
Dr Joanne Tovissi took extra time with me on my first visit and went over my care plan in detail. She explained every step of her evaluation and screened for mouth cancer as well as gum disease with special tools. I was so grateful for her education and care. I would recommend this dentist to anyone I know. Thank you Dr. Tovissi. The office staff was great as well. Very efficient.
3 year old's first cleaning
Today I had my first experience with Babcock Dental Center as I took my 3 year old for his first cleaning. I was a bit nervous as I had never been to the office for a visit myself. However, our experience could not have been better! The front office staff greeted us with warm smiles and provided prompt service. When the dental technician greeted my son in the waiting area, she knelt down to his eye level, introduced herself, and was able to quickly engage him in conversation. He was immediately put at ease and walked independently to the examination room while I remained in the waiting area. Dr. Tovissi came to the waiting area to introduce herself to me and to discuss the concerns I had recorded on our intake forms. She was kind and helpful! When my son returned to the waiting area, he was again greeted by the front office staff and enthusiastically told all of us about his new tooth brush. We will be making Babcock Dental Center our new family dentist!
Compassionate, professional, excellence.
These 3 words embody my experience with Babcock Dental from my initial phone call and throughout my visit. They cared about the support I needed, not how to exploit my insurance. I look forward to building this relationship. Thank you, Dr. Tovissi and your wonderful staff!
We strive to make you smile, in more ways than one. Therefore, if you're not satisfied, we want to know. If you're thrilled with your service, we want to know that as well so we can maintain the systems that work.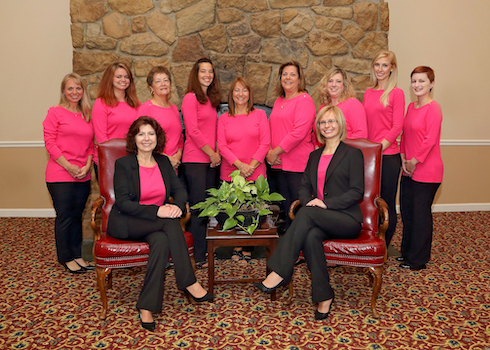 Just like family
I haven't been to the practice in a few years because we haven't had dental insurance. However, I had a problem that I just couldn't put off. From the moment that I walked through the door, I was greeted with open arms. The staff wanted to make sure everyone in our family was doing well. My problem was found within minutes and I was referred to the appropriate specialist. This staff genuinely cares about their patients and is concerned for your wellbeing if you are away for awhile. It is so nice not to just be a number.
They really are the best dentist I have ever been to.
I have many many issues with my teeth and most times when I visit a dentist they just jump right in and start the root canals and fillings. This was not the case with Babcock Dental. My first appt was just an evaluation, they discussed all of my issues and started immediately with a game plan of preventative maintenance. My second appt started with the dentist sitting down with me with a packet of my entire treatment plan, the approximate cost and how many appts I would need. Since nothing was actually bothering me, she started with correcting my chipped tooth and the cavity right next to it that was noticeable. It was about making me feel comfortable smiling again. Since then I have been back for many treatments, they have state of the art equipment. I truly know I am cared for and my teeth are getting better and I am taking better care of them. They are even helping me contact my congressman because my insurance will not pay for my deep cleanings which I so desperately needed. This practice is amazing, wonderful people, intelligent well trained staff. If you are in the North Hills of Pittsburgh looking for a dentist, I cannot recommend them enough!
Revealing Your Very Best Smile
Over 30 years treating the dental needs of our family and friends
A truly comfortable & friendly environment
Advanced dental care treatment & technology
Cosmetic and restorative dentistry services